MST3K Episode K15: Superdome (Pak's Take)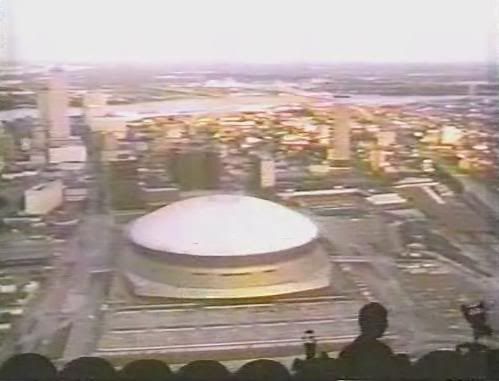 The Movie:
The Superbowl is in 3 days, but can the Cougars win when one of their star players is going through a relationship crisis, and there's a mysterious terrorist killing off key team members? I'd hoped that the combination of made-for-TV goodness, and the star power of the likes of Dick Butkus and Tom Selleck would provide a pleasantly cheesy experience like Deathflight SST provided. There's just not enough happening in this movie. The marital struggles of one of the football players actually turns out to be the most interesting thing going on here, and if you're hoping for football of any kind to show up in this movie, forget it. You don't even get to find out who won (Much to Tom Servo's dismay.)
The Episode:
We have our first (And to my knowledge, our only) clip show! The host segments all revolve around Tom Servo writing a letter "To Whom it May Concern" about his experiences on the SoL. Most of the host segments just flash back to previous host segments, but there's a very amusing host segment where Tom remembers Joel acting like a jerk to the bots. It's completely out of character for Joel which makes it hilarious to watch and has the awesome line, "Listen, I'm not really this way, it's just Servo's perception of me."
Overall:
  This was another move that just didn't have enough material for Joel and the bots to work with. There's a point late in the movie where everyone seems to give up on the whole episode (See Below.) There's less dead air than there was in Mighty Jack, and they manage to nail a few good riffs, but this was still a hard episode to get through.
Best Riff:
Crow: Boy, this thing turned out to be a real yawnfest.
                Servo: Who are you talking to? Most of our viewers have tuned out by now anyway.
Overall:
4 out of 10